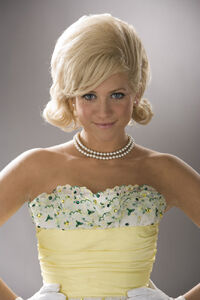 Amber Von Tussle is the love rival of Tracy Turnblad over Link Larkin's affections from musical movie Hairspray.
At the end of the 2007 film adaption, she happens to accept her loss to dark horse candidate Inez Stubbs and, in the extended deleted ending, leaves her mother to her fate of being arrested. In either version of the ending, she is last seen watching everyone dance. In the original musical version and the 2016 NBC live musical telecast, however, both she and her mother are redeemed.
Ad blocker interference detected!
Wikia is a free-to-use site that makes money from advertising. We have a modified experience for viewers using ad blockers

Wikia is not accessible if you've made further modifications. Remove the custom ad blocker rule(s) and the page will load as expected.