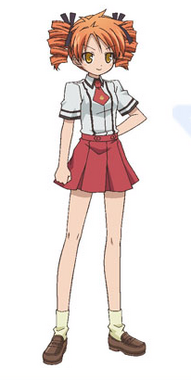 Miharu Shimizu is an antagonist in the manga "Baka and Test" and the main antagonist in the anime series. She is an orange-haired girl in Class D that holds an extreme lesbian attraction to Minami Shimada.
Appearance
Edit
Miharu has a quite cute appearance. Her hair is pumpkin orange and twirled into ringlet pigtails, tied up with black X-like bows. Her eyes are topaz, and she seems to be of average height.
She was voiced by Ayana Taketatsu in Japanese and English dubbed by Kristi Kang.
Her given name Miharu means "Beautiful Spring" while her surname Shimizu mean "Pure Water". Yet, Miharu is actually a beautiful girl, but filled with dark and negative traits.
External Links
Edit
Ad blocker interference detected!
Wikia is a free-to-use site that makes money from advertising. We have a modified experience for viewers using ad blockers

Wikia is not accessible if you've made further modifications. Remove the custom ad blocker rule(s) and the page will load as expected.